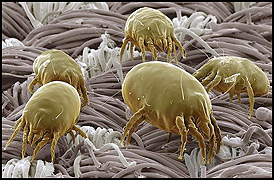 Sleeping hygienic, dust mite and allergy free
Phil's mattress cleaning Brisbane offers a unique cleaning and sanitizing service specializing in UV sterilization of mattresses.
Our scientifically proven system kills 99.9% of all DNA based organisms including dust mites, bed bugs, bacteria, fungus, mold spores and viruses.
Whether you are a home owner, commercial client or prospective business buyer, our goal is always the same…to provide the best customer service and support in the industry while creating a healthier living environment for our Brisbane mattress cleaning customers.
Did you know:
Dust mites are second only to pollen in causing allergic reactions.
The average person sheds about 40,000 skin cells every second, and mold and mites feed on this dust.
The most common indoor allergen that triggers symptoms in humans is the house dust mite.
A typical used mattress may have anywhere from 100,000 to 10 million mites inside.
Ten percent of the weight of a two year old pillow can be composed of dead mites and their droppings
Dust mites prefer warm, moist surroundings such as the inside of a mattress. A favorite food is dander (both human and animal skin flakes). Humans shed about 1/5 ounce of dander (dead skin) each week. About 80 percent of the material seen floating in a sunbeam is actually skin flakes. Carpeting and household upholstery also support high dust mite populations.
What we USE
Phil's Brisbane Mattress cleaning is the most powerful and effective way to control germs and bacteria.
The germicidal UV-C light is a scientifically proven method of destroying germs and bacteria. Hospitals have been using this technology for years as an effective way to sterilize surgical equipment. We use the same germ killing methods to provide our Brisbane mattress cleaning clients with a safe, dry, chemical-free cleaning process. UV-C lights produce short wave radiation which is lethal to bacteria, virus and other microorganisms. Throughout the years ultraviolet technology has become well established as a method of choice for its effectiveness, safety, speed, and ease of use. Plus a deep Clean of removal Dust mites and more from your bed.
When was the last time you had your mattress cleaned?
With over 2 million dust mites living in the average queen size mattress, you're probably overdue for a cleaning! Do you ever wake up with itchy, watery eyes, nasal stuffiness, a runny nose, dry mouth or sneezing? These are all signs of dust allergies. Mattress cleaning Brisbane provides a mattress cleaning service for the geater Brisbane area including Logan. Contact us for a free evaluation.
Are you sleeping with millions of dust mites?
Give Phil's Mattress Cleaning Brisbane a call today and stop those nasties biting.
Brisbane Mattress Cleaning ph: 0407 653 319
Mattress Cleaning Areas we service
Greenbank, Brisbane Southside, Carpet Cleaning Park Ridge, Springfield Lakes, Brookwater, Augustine Heights, Camira, Forest Lakes, Riverhills, Carpet Cleaning West Lakes, Bellbowrie, Middle Park, Jamboree Heights, Sumner, Carpet Cleaning Jindalee, Sinnamon Park, Fig Tree Pocket, Kenmore, Kenmore Hills, Brookfield, Pullenvale, Taringa, Chelmer, Gracecille.Carpet Cleaning Calamvale, Parkinson, Algester, Stretton, Drewvale, Forestdale, Runcorn, Eight Mile Plains, Robertson, Sunnybank