Bright, clear, windows that sparkle
We are a small Family Run Window cleaning brisbane business.
We will make your windows sparkle and shine! No messy streaks to obstruct the view. Bright, clean, and clear windows to enjoy the beautiful Brisbane sunshine. Our Brisbane window cleaning team will give you the brightest, cleanest windows in Brisbane.
As we are a small family business we don't employ casuals to do the window cleaning for us. We take pride in the fact we do the work ourselves!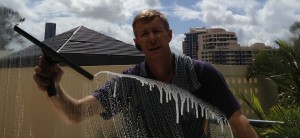 Our thorough three-step process makes us the best choice for Brisbane window cleaning.
Our special soap solution loosens all dirt, bird droppings and insect marks.
Vacuum Tracks. We loosen the dirt in your window tracks, then vacuum the tracks clean.
Streak Free Windows! We squeegee the windows to get the best finish possible. Rags are only used for touch-up finishing, in a way that will keep your windows clean and clear.
Why do we use a squeegee? People who clean with rags will notice that the rags leave streaks that are revealed when the sun hits them, as well as spray on products bought at the supermarket that will leave smears. Our professional window cleaning Brisbane service provides streak-free cleaning! Our touch-ups are done with style, to give you the best view possible.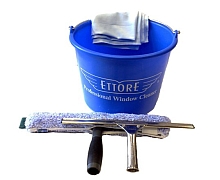 Don't you hate dirty windows? What's worse than cleaning your home, to then be staring at dirt and droppings that block the view of roses and trees. Our professional Residential window cleaners will brighten your view, and freshen the atmosphere of your home.
Hate to climb up on the roof? Let us handle it! We will clean windows that reach up to two stories, letting you take a break from those hard-to get places.
When searching for Window Cleaning Brisbane, Window Cleaning Southside, Window Cleaning, you have come to the right place.
We Clean all types of glass! Let us clean your, Swimming pool glass. We specialise in all types of Domestic window cleaning. Houses, townhouses and apartments no problems, we do it all.
Fly screens, sills and ledges, mirrors and glass pool fencing can all be cleaned and don't forget those Solar Panels.
Residential Window Cleaning Brisbane is about more than keeping your home looking its best – did you know that Bright and Clear windows can increase the street appeal of your home, potentially raising the real estate value? Be the envy of your block – Our home Brisbane Window Cleaning services can actually make your home look newer and more appealing!
For all your Carpet Cleaning Brisbane and Pest Control Brisbane, Upholstery Cleaning Brisbane, Window Cleaning Brisbane, Tile Cleaning Brisbane, needs call us – Phils Cleaning,
Please give us a call for a carpet-cleaning free quote 0407 653 319
Brisbane Window Cleaning ph: 0407 653 319